Torque Switch Rotation Encoder (TSRE)
valve testing
Torque Switch Rotation Encoder (TSRE)
The Torque Switch Rotation Encoder (TSRE) mounts to the torque switch on SMB/SB actuators, allowing measurement of spring pack displacement when access to the spring pack is not available. Teledyne's digital encoder TSRE comes with a Junction Box with different conversion factors depending on the size of the actuator, making it versatile with any SMB or SB actuator size 0 - 5. By using the integral TEDS plug and play technology, the conversion factors for each actuator size will be automatically programmed within the QL3-FS configuration test file.
Specifications:
Size: 9" x 3" x 2 ½"
Weight: 2 lbs.
TEDS Sensor Recognition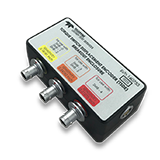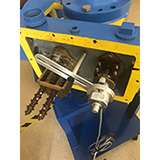 HBC Stem Position Encoder (HBC-SPE)
Measuring valve stem position is a vital characteristic for rotary valve position. Traditionally, the stem position is measured with a string pot by wrapping the string around the valve stem. The HBC Stem Position Encoder (HBC-SPE) mounts to the top of the HBC drive sleeve, and provides a repeatable mechanical connection to measure position.
Teledyne's HBC Stem Position Encoder uses a bracket to attach to the top of a HBC drive sleeve, with clearly labeled attachment points to ensure the encoder sits in the center of rotation for accurate measurements.
Specifications:
Size: 13" x 7" x 5"
Weight: 2 lbs.
Accuracy: ±0.14°
TEDS Sensor Recognition