JT4000 Portable Digital Indicator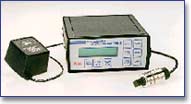 The Teledyne Brown Engineering - JT4000 is a Portable, Digital Indicator designed for use with our Torque Sensing Socket Extensions or any strain gage based transducer. The system can be utilized on the factory floor or in the field to obtain fastener torque or to calibrate/check torque wrenches.
The JT4000 utilizes Teledyne's Smart Connector technology which keeps the calibration data for each sensor stored in EPROM on the sensor connector. This allows the user to interchange sensors without additional calibration. The unit is fully compatible with all strain-gaged-based transducers.
Applications:
Electronic Torque Wrench -- Shop Floor Calibrator or Checker -- Field Calibrator or Checker -- Manufacturing and Assembly Process Control -- Load Cell Readout -- Strain Indicator