LC-20 Torque Wrench Calibrator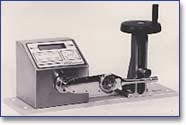 The LC-20 Torque Wrench Calibrator is a highly accurate, microprocessor-based instrument that is traceable to NIST.
The LC-20 provides a fast, effective means to achieve traceable calibration of torque wrenches on the job. Lightweight and portable, the LC-20 can be brought out to the factory floor or into the field to perform on-site calibrations.
Simply load the wrench and read the value off the alphanumeric display or print the readings through the RS232 port.
Applications:
Shop Floor Calibrator or Checker -- Field Calibrator or Checker -- Manufacturing and Assembly Process Control