LC-20 Torque Wrench Calibrator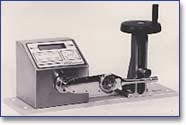 Design & Features
General Description
The LC-20 Torque Wrench Calibrator is a highly accurate microprocessor-based instrument that is traceable to NIST. The LC-20 provides a fast, cost-effective means to achieve traceable calibration of torque wrenches on the job.
The capacity range of standard LC-20 models is from 100 in-lb to 600 ft-lb. Refer to the specification page for the full listing of available capacities.
Highly Accurate
Supplied with a Certificate of Calibration traceable to the National Institute of Standards and Technology (see specification page).
Peak Mode
Used to verify calibrations of click-type torque wrenches. Displays highest torque applied.
Track Mode
Continuously displays the actual torque as it is applied.
Power Mode
High-speed peak detection for non-impacting power nut runners and air tools.
Auto Mode
Automatically resets the peak value after a preset time of interval.
Selectable Units
Units can be converted by the push of a button to ft-lb, in-lb, in-oz, N-m or kg-cm.
Lightweight, Portable & Tough
Unit is constructed with a rugged stainless steel housing mounted to an aluminum baseplate. The baseplate can be bolted or clamped to a work surface. Weighing only 20 pounds, the LC-20 can easily be transported to the factory floor or into the field to perform on-site calibrations.
Printer Output
An RS232 port is provided to interface with a PC or a direct printer output.
Mechanical Loader
The mechanical loader is standard on all units and provides a loading frame used to hold the wrench while a constant torque is mechanically applied. The mechanical loader is adjustable to accept a wide range of wrench handle lengths and can load the test wrench clockwise as well as counter-clockwise.
Square Drive Adapter
Each unit comes standard with a 1/2" square drive. Additional adapters are available in 1/4" or 3/8". The LC-20-SP60 unit is supplied with a 3/4" or a 1" drive.
Optional Battery Power
Built-in rechargeable Ni-Cd battery pack is available for remote operation.
Optional Calibration Kit
Used to verify continued accuracy of the LC-20 and to provide traceability to NIST. Kit comes with a weight pan, calibrated arm and weight set.
Optional Dual Range Kit
The LC-20 can be configured to provide a second calibration range. Please contact us for more details.